Pace Mini
Cricket Bowling Machine for Kids and Malls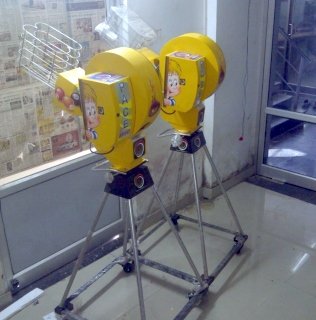 In cricket a
bowling machine
is a device which make possible a batsman to practice (usually in the
nets
) and to improve specific skills through repetition of the ball being bowled at a certain length, line and speed. It can also be used when there is no-one available to bowl, or no one of the desired style or standard.
Pace Mini Cricket Bowling Machine for Kids and Cricket in Malls & Parks
Cricket Facility with a Bowling Machine in a Mall is profitable business as it provides scope for the advertising and promotional activities.

People come in malls and amusement park for fun and enjoyment.
Playing cricket with best of the Cricket Bowling Machine and get a chance to taste their skills in front of his friends and family will give him full value of his money.
Pace Mini Cricket Bowling Machines can be installed in a closed net Structure in foot print places like shopping malls, public places, Resort, Parks or a theme park.
Anybody who wants to play cricket with a Cricket Bowling Machine shall PAY & PLAY their favorite game.
Pace bowling machine have their different models which is suitable for any kind of budget The cricket bowling machine price is so less that a game operator can start operating the game with a minimum investment.
Since the speed of bowling machine start from 30KMPH, its best bowling machine for kids.
Features of Pace Mini Bowling Machine
Compact, spin-balanced single wheel design.
Machine Weight: 20kg.
Power Supply: 220V, AC.
Line can be change
Length can be change from half pitch to Full toss.
For  Tennis Ball.
Auto-Feeder is pre-attached.
Well balanced quadra pod Stainless Steel legs  on break wheels.
Can ball  Full-toss, Yorker, Short-Full Length, Good length, Top spin, etc.
Bowling Speed 30 – 110 KPH.
In auto-feeder you can store up to 50 balls at a time and locking system is also available for storing of balls.
This machine is totally for entertainment purpose; women and children can also play and get enjoyed as the speed of machine start from 30 KPH.
It is manufacture exclusively for commercial use. It contains a counter which counts delivered balls up to 9,99,999 nos., so without any hesitation regarding collection  you can depute any person to run the  machine for business. In this machine anyone can't reduce or reset the counting and after 9,99,999 nos. it again start from the 1st no.
According to the counter you can take the collection.
Ideal for Shopping Malls, Amusement park, Resorts, Kids or Home use.
PACE MINI & PACE FUN CRICKET BOWLING MACHINES
Pace Mini Cricket Bowling Machine at Mall